100% NATURAL MARINE USE REAL WOOD PRESERVATION & SEALING COMPOUND
Regular price
Sale price
$49.99 USD
Unit price
per
Sale
Sold out
Forberz™ Wood Finish (Finish Seal): The Ultimate Natural Wood Preservation & Sealing Compound
When it comes to preserving the beauty and integrity of natural wood, nothing quite compares to Forberz™ Wood Finish. This 100% natural marine-grade wood preservation and sealing compound offers a comprehensive solution for protecting and enhancing the unique color and texture of wood surfaces. Whether it's for interior or exterior use, Forberz™ Wood Finish is the go-to product to seal and protect your wood against harsh elements.
All-Natural Marine-Grade Protection: Forberz™ Wood Finish is specially designed to safeguard natural wood surfaces against the ravages of weather and seawater damage. Whether you have a boat deck, outdoor furniture, or indoor wooden items, this compound is your best ally in preserving the wood's natural charm.
Revives & Preserves: Not only does Forberz™ Wood Finish protect your wood, but it also brings it back to life. It revives the wood's unique color and texture, ensuring that it looks as good as new.
Liquid Repellent: This wood finish is highly effective at repelling liquids. Say goodbye to the problems associated with moisture and humidity.
Easy Application: Forberz™ Wood Finish is a breeze to apply. There's no need for complicated workspace preparations. It doesn't drip, and it's virtually odorless. You can achieve professional-grade results without any fuss.
Safe for All Surfaces: This wood finish is safe for clear surfaces, paint, chrome, and trim. No need to worry about accidentally applying it where it doesn't belong. It's a versatile and safe solution.
100% Natural. No Silicones. No Solvents. Non-Toxic.
Safe on painted, coated, or clear surfaces.
PAINT SHOP SAFE.
Share
View full details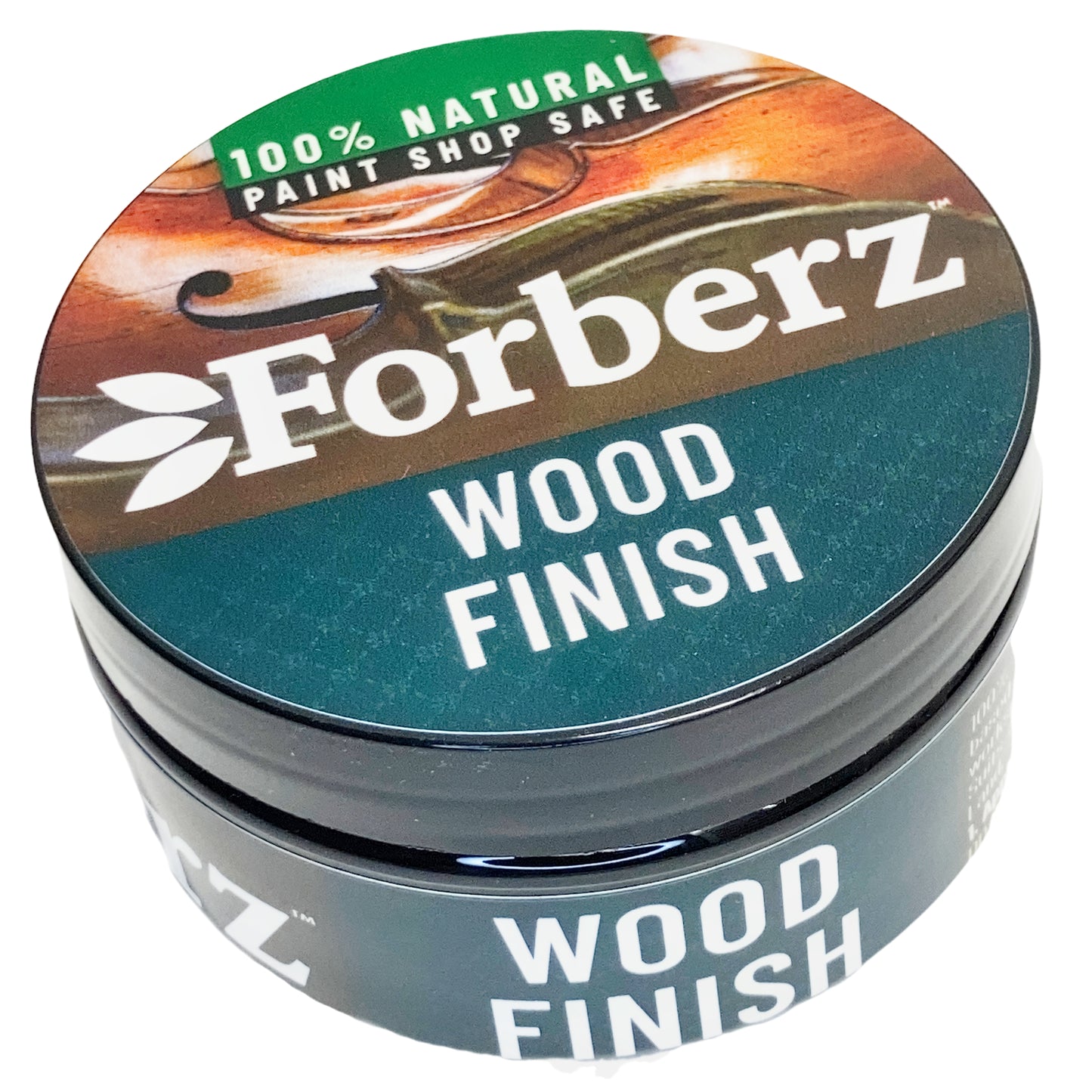 Collapsible content
HOW TO USE

- Begin by thoroughly cleaning and degreasing the wood surface. Use Forberz™ Interior Detailer for a perfect clean.
- Apply the wood finish as needed using a soft cloth or brush.
- Allow a 30-minute absorption time for best results.
-Wipe and buff any leftovers for a smooth and dry surface. Repeat the process as needed.

Try on a small hidden area first.
Use & store in a shaded, cool & dry area.
DO NOT APPLY ON WET OR HOT SURFACES!
TIPS

- Use two rags, one for application and one for wiping down any excess. A microfiber towel or an old 100% cotton shirt is recommended.
- On uneven and hard-to-reach surfaces, consider using a soft paintbrush to spread the compound evenly.
- Work on portions of about 1 foot at a time to ensure an even application.
FREQUENT QUESTIONS

Q: How long does Forberz™ Wood Finish stay on the treated surface?

A: The duration of the treatment varies depending on the environment. Indoor items may stay great looking for years, and it's recommended to treat them every six months. For items located outdoors, the results and sealing properties may last for up to a year, but it's advisable to treat them every three months for optimal results and material preservation.

Q: Does Forberz™ Wood Finish spoil or expire?

A: Forberz™ Wood Finish has no fixed expiry date due to its natural ingredients. It will not evaporate or dry out if left open. However, it's best to store it away from direct sunlight in a dark, dry, and cool environment.

Q: I left the container in the sun and the compound became liquid, is it spoiled?

A: No need to worry, if left for long in a hot environment or direct sunlight the compound might melt and become partially liquid. Just place it in a dark, cool, and dry environment and it will return to its original state and may be used again.

Q: What should I use as an applicator?

A: You have multiple options for an applicator, including a soft cloth, sponge, microfiber towel, an old 100% cotton shirt, or a soft paintbrush. Choose the one that suits your application best.
TECHNICAL & SAFETY DATA

100% Natural compound based on honey extracts.
Paint shop safe.
Non-Toxic, No Silicones, No Solvents.
Use as intended.
Not for human or animal consumption.
No fire hazard presented at regular working conditions.
Use & store in a shaded, cool & dry area.
On eye contact wash with plenty of water
If irritant to skin wash with water and soap.
DO NOT APPLY ON WET OR HOT SURFACES!

MSDS Files
SHIPPING

All items will be shipped within 3 business days, through Israel Post, and at their responsibility.
Forberz and its subsidiaries are not responsible for service transit time.
This information is provided by the carrier and excludes weekends and holidays.
Note that transit times may vary, particularly during peak periods.

International customers:
Please note that we are not the party collecting the shipping & handling nor the import charges (duties and taxes)

Return Policy:
We accept returns only if the item was not as described or found defective on arrival.
The buyer must contact us and return the item exactly as received in its original packaging within 14 days and will be responsible for all the Return Charges.
Return shipping and handling are the sole responsibility of the buyer.
A refund will be issued 5 business days after our team receives and checks the returned item.