100% Natural Wheel & Rim Cleaning Solution
Regular price
Sale price
$34.99 USD
Unit price
per
Sale
Sold out
Forberz™ Wheel Cleaner is made for enhancing, protecting, and preserving the appearance of your wheels or rims!
This powerful and effective cleaning solution can remove dirt and grime that accumulates from brake dust, oil residue, snow, and salt. It can even tackle tough stains that have set in over time, restoring your wheels to their original shine.
This spray is safe to use on a variety of wheel finishes, including chrome, aluminum, steel, clear coated, PVD, painted, plastic wheel covers, and magnesium. It is completely acid-free and pH balanced, which means it won't damage your wheels while providing a powerful cleaning solution.
Forberz™ Wheel Cleaner can effectively remove stubborn built-up brake dust, grease, road grime, and light corrosion from premium quality wheels. It can safely clean and show prep cars and bikes, making it an ideal choice for hobbyists and car enthusiasts. It can even remove old tire dressings and is a great whitewall tire cleaner too.
Overall, Forberz™ Wheel Cleaner is a versatile and effective solution for cleaning and preserving the appearance of your wheels and tires. With its safe and powerful formula, it can deliver amazing results without causing any long-term damage to your wheels or tires.
100% Natural. No Silicones. No Solvents. Non-Toxic.
Safe on painted, coated, or clear surfaces.
PAINT SHOP SAFE.
Share
View full details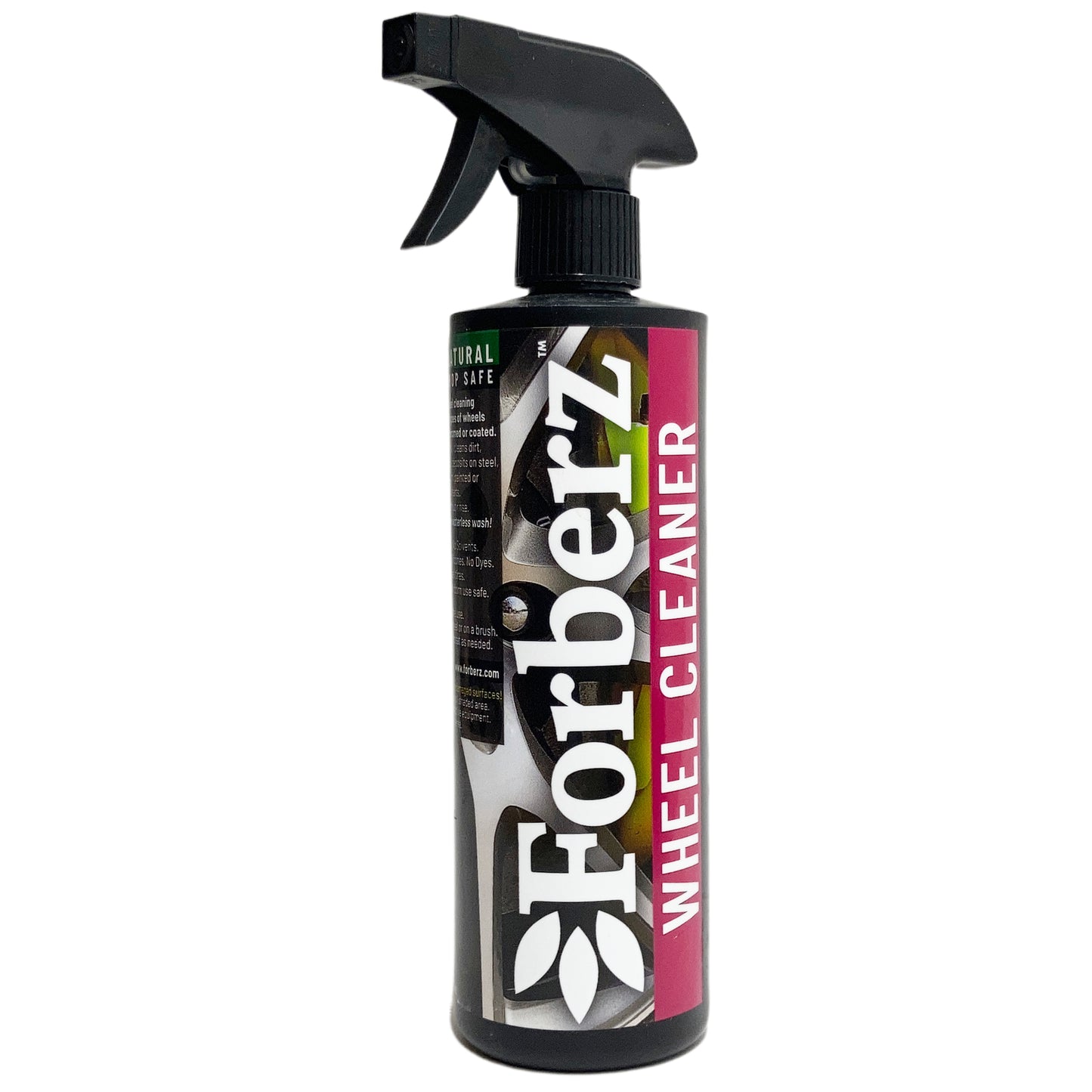 Collapsible content
HOW TO USE

- Shake well
- Spray on wheel
- Let soak for 1-2 minutes
- Wash
- Dry wheel with a dry soft cloth to eliminate water drop stains
- Repeat as needed.

Try on small hidden area first. Do not attempt cleaning damaged and/or cracked surfaces. Use & store in a shaded, cool & dry area.
DO NOT APPLY ON WET OR HOT SURFACES!
TIPS

- For a quick cleaning in your parking spot, spray some Forberz Wheel Cleaner on a soft cloth and wipe the wheels by hand.
- Forberz Wheel Cleaner can be used instead of a degreaser to clean hard to remove stains from paint & chrome. The solution does not contain solvents, alcohol or strong acids which may harm any painted, plated or coated surfaces.
- Forberz Wheel Cleaner is clear & does not contain any "show" ingredients which change color on contact with iron particles. Keep in mind that any coloring may leave marks on Your rims or white wall tires & may cause permanent damage.
FREQUENT QUESTIONS

Will Forberz Wheel Cleaner damage any painted surfaces or any plastic or rubber trim?
The "Forberz Wheel Cleaner" has been specialy developed to clean rims and wheels without causing damage to any surrounding areas. It will not damage any painted surfaces nor plastic or rubber trim.

Do I have to use a pressure washing machine to get good results?
Although a pressure washing machine will shorten the cleaning time and will help you clean you don't have to use one. A good wheel cleaning brush will help you get to any hard to reach spots and a soft cloth with some Forberz Wheel Cleaner on it will clean any hard stains.

Can I clean the tires using Forberz Wheel Cleaner?
You can clean your tires using "Forberz Wheel Cleaner", although for best results we recomend using a tire cleaning solution.
TECHNICAL & SAFETY DATA

100% Natural cleaning solution based on lemon extracts.
Paint shop safe.
Non-Toxic, No Silicones, No Solvents.
Use as intended.
Not for human or animal consumption.
No fire hazard presented at regular working conditions.
Use & store in a shaded, cool & dry area.
On eye contact wash with plenty of water
If irritant to skin wash with water and soap.

DO NOT APPLY ON HOT SURFACES!

MSDS Files
SHIPPING

All items will be shipped within 3 business days, through Israel Post, and at their responsibility.
Forberz and its subsidiaries are not responsible for service transit time.
This information is provided by the carrier and excludes weekends and holidays.
Note that transit times may vary, particularly during peak periods.

International customers:
Please note that we are not the party collecting the shipping & handling nor the import charges (duties and taxes)

Return Policy:
We accept returns only if the item was not as described or found defective on arrival.
The buyer must contact us and return the item exactly as received in its original packaging within 14 days and will be responsible for all the Return Charges.
Return shipping and handling are the sole responsibility of the buyer.
A refund will be issued 5 business days after our team receives and checks the returned item.