100% NATURAL HEAVY DUTY PLASTIC TRIM POLISHING COMPOUND
Regular price
Sale price
$54.99 USD
Unit price
per
Sale
Sold out
Forberz™ Plastic Peeling - the ultimate solution for restoring heavily faded plastic trim and parts on your vehicle!
This innovative 100% natural formula features hybrid abrasive particles that gently remove the sunburnt, weathered, and oxidized top layer of plastic, allowing you to revive the original color and texture of your car, truck, bike, boat, and more.
Say goodbye to unsightly polish stains on your SUV trim and truck bed liner, and hello to a brand new-looking surface that is sure to impress. Whether you're looking to restore your car's exterior plastic parts or give your dashboard and door inserts a new lease of life, Forberz™ Plastic Peeling is the answer you've been looking for.
The best part? Forberz™ Plastic Peeling is 100% natural and contains no silicones or solvents, making it a safe and non-toxic option for all your plastic restoration needs. Revive your faded plastic trim with ease, either by hand or with a polisher, and enjoy a renewed look that will last for years to come.
Upgrade your plastic restoration game with Forberz™ Plastic Peeling, and experience the power of a truly innovative formula that will bring your vehicle's plastic trim and parts back to life!
100% Natural. No Silicones. No Solvents. Non-Toxic.

PAINT SHOP SAFE.

WILL LEAVE SWIRL MARKS ON PAINTED & CLEAR SURFACES!

Share
View full details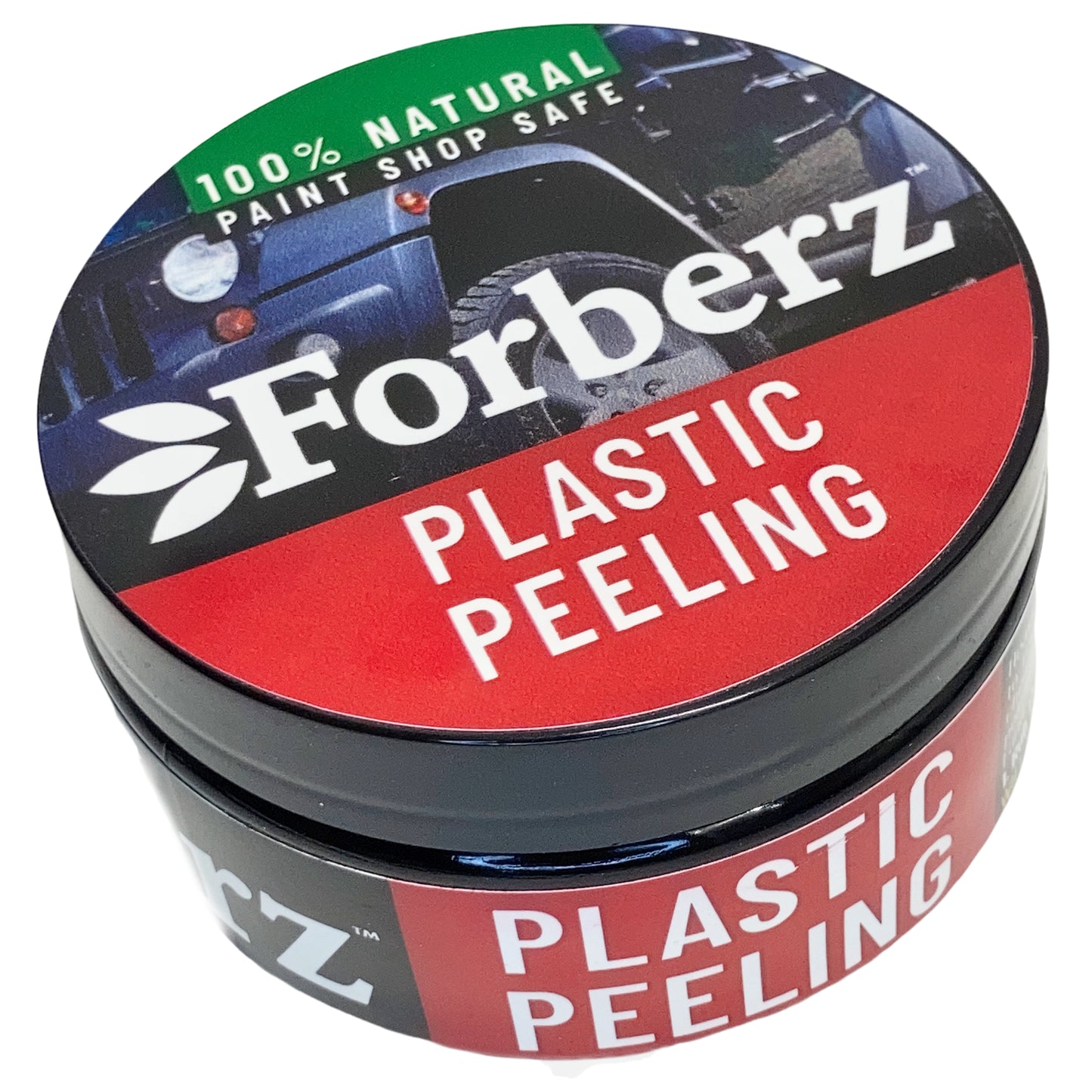 Collapsible content
HOW TO USE

- Rub surface thoroughly to remove marks.
- Wipe & buff any leftovers for a smooth and dry surface.
Repeat as needed.
- Apply Forberz Plastic & Rubber for smooth finish and protection.

Try on small hidden area first. Do not attempt cleaning damaged and/or cracked surfaces. Use & store in a shaded, cool & dry area.
DO NOT APPLY ON WET OR HOT SURFACES!
TIPS

- Use two rags, one for application & one for wiping down the leftovers. It is recommended to use a microfiber towel or an old 100% cotton shirt.
- Work on portions of about 20 to 30 cm every time for an even application.
FREQUENT QUESTIONS

What should I use as an applicator?
You can use a rag or a coarse polishing disk on a polisher to apply Forberz Plastic Peeling. We recommend using a microfiber towel or an old 100% cotton shirt and not more than 2000 rpm.
TECHNICAL & SAFETY DATA

100% Natural compound based on honey extracts containing soft abrasive particles..
Paint shop safe.
Non-Toxic, No Silicones, No Solvents.
Use as intended.
Not for human or animal consumption.
No fire hazard presented at regular working conditions.
Use & store in a shaded, cool & dry area.
On eye contact wash with plenty of water
If irritant to skin wash with water and soap.
DO NOT APPLY ON WET OR HOT SURFACES!
DO NOT APPLY ON MOVING PARTS & CONTACT SURFACES LIKE ENGINE BELTS & TIRES!

MSDS Files
SHIPPING

All items will be shipped within 3 business days, through Israel Post, and at their responsibility.
Forberz and its subsidiaries are not responsible for service transit time.
This information is provided by the carrier and excludes weekends and holidays.
Note that transit times may vary, particularly during peak periods.

International customers:
Please note that we are not the party collecting the shipping & handling nor the import charges (duties and taxes)

Return Policy:
We accept returns only if the item was not as described or found defective on arrival.
The buyer must contact us and return the item exactly as received in its original packaging within 14 days and will be responsible for all the Return Charges.
Return shipping and handling are the sole responsibility of the buyer.
A refund will be issued 5 business days after our team receives and checks the returned item.