100% NATURAL MOISTURIZING & CONDITIONING CREAM FOR REAL LEATHER
Regular price
Sale price
$47.99 USD
Unit price
per
Sale
Sold out
Forberz™ Leather Cream is an all-in-one treatment for real leather products such as car seats, bags, shoes, belts, and more!
Forberz™ Leather Cream helps to moisturize, condition, protect, and restore leather items, increasing their longevity and suppleness. Forberz™ Leather Cream is safe to use on any genuine or faux leather, except for suede and nubuck leather. Forberz™ Leather Cream is made with natural premium ingredients, without any harsh chemicals, and is gentle, smooth, and non-greasy.
Forberz™ Leather Cream enhances the color and texture of leather, while also blurring out small scratches and imperfections. Forberz™ Leather Cream prevents cracking and maintains leather's water-repellent properties. Forberz™ Leather Cream is suitable for leather shoes, bags, clothing items, furniture, car seats, saddles, motorcycle racing suits, and any other leather item. Regular and proper maintenance with Forberz™ Leather Cream can extend the life of leather products by years.
Forberz™ Leather Cream is handmade with premium ingredients and is safe to use on dyed or colored leather. Forberz™ Leather Cream does not leave any tacky residue or film and restores the natural shine of the leather. Forberz™ Leather Cream penetrates deep into the leather, nourishing and softening it, making it more elastic. Forberz™ Leather Cream is also safe for vinyl and finished leather of all colors. Forberz™ Leather Cream helps to minimize the appearance of scratches and protects against fading, cracking, and aging from sun exposure.
Forberz™ Leather Cream is a popular treatment for classic cars and older cabriolets, reviving existing color and faded dyes. Forberz™ Leather Cream is also effective for handbags, suitcases, saddles, and shoes, as well as a waterproofer for motorbike jackets, dresses, skirts, trousers, etc. Regular application of Forberz™ Leather Cream ensures the leather is thoroughly protected, keeping it soft and supple. Great for new & antique leather. Forberz™ Leather Cream will not "sweat" & will prevent over-shrinking in cold weather. Suitable & safe for all leather colors. Harmless to clear surfaces, paint, chrome & trim.
100% Natural. No Silicones. No Solvents. Non-Toxic.
Safe on painted, coated, or clear surfaces.
PAINT SHOP SAFE!
Share
View full details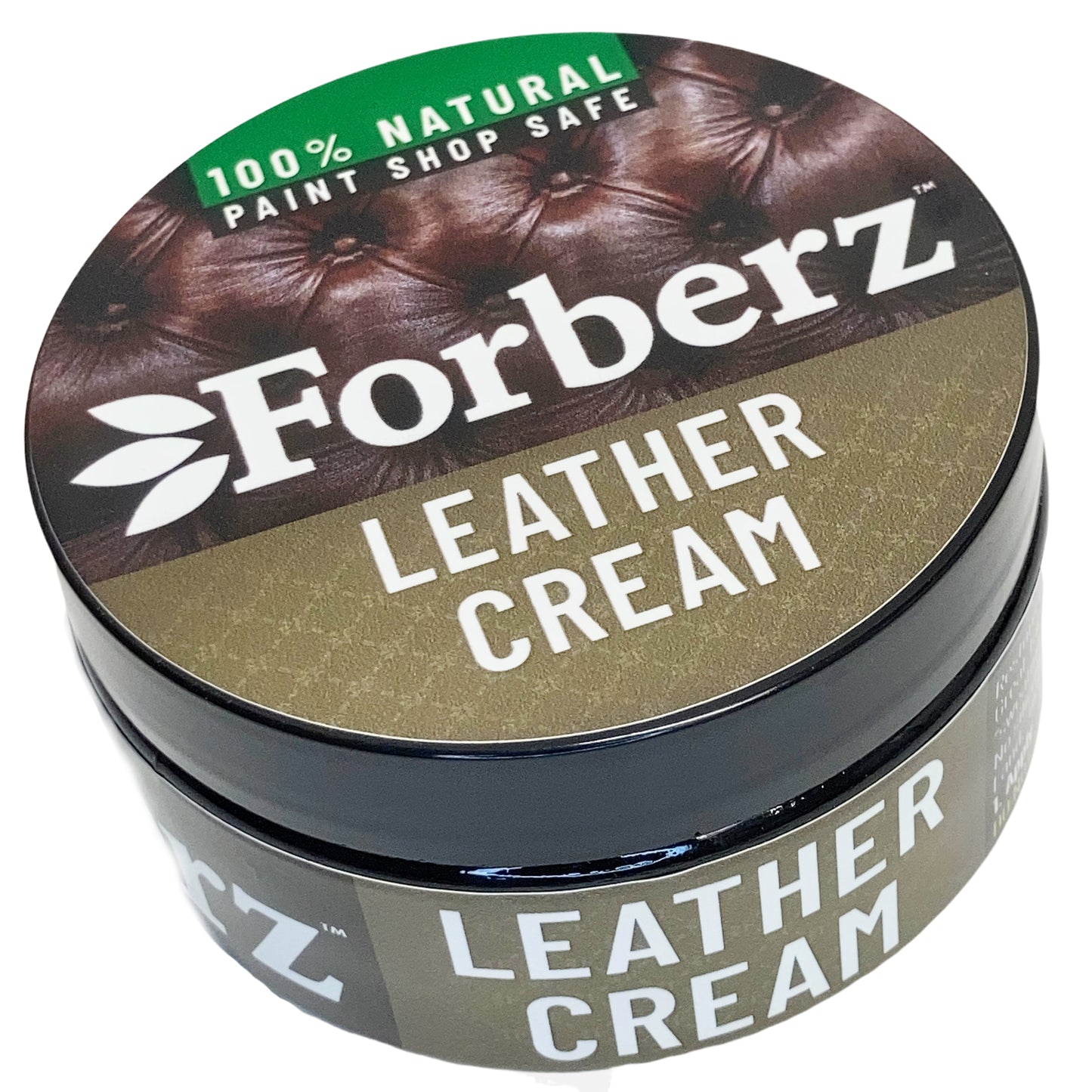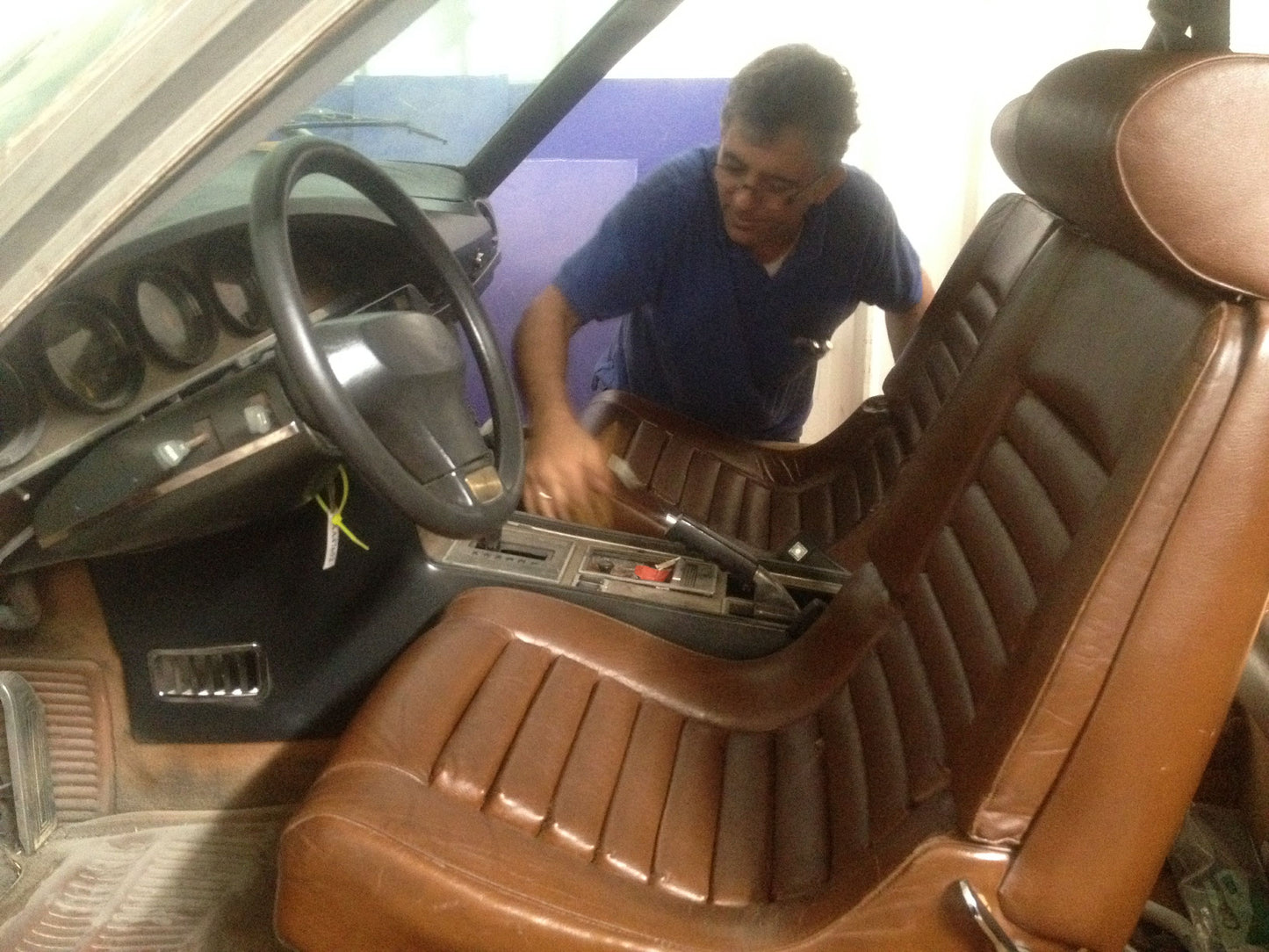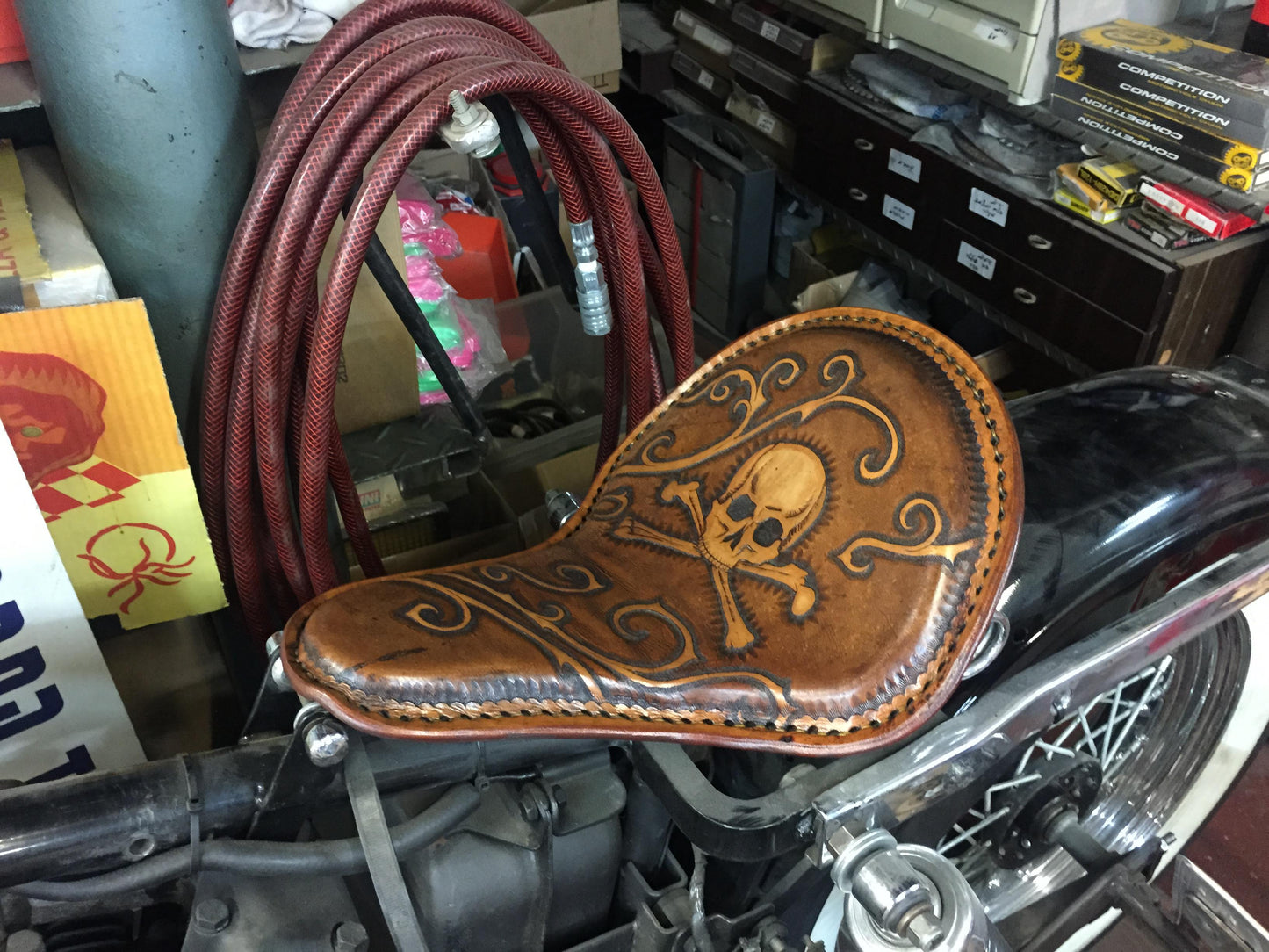 Collapsible content
HOW TO USE

- Thoroughly clean and degrease the treated surface. We recommend using Forberz DetaiHD for a perfect clean.
- Apply as needed using a soft towel or applicator.
- Allow absorbtion for 2 hours.
- Wipe & buff any leftovers for a smooth and dry surface.
Repeat as needed.

Try on small hidden area first. Do not attempt cleaning damaged and/or cracked surfaces. Use & store in a shaded, cool & dry area.
DO NOT APPLY ON WET OR HOT SURFACES!
TIPS

- Use two rags, one for application & one for wiping down the leftovers. It is recommended to use a microfiber towel or an old 100% cotton shirt.
- On uneven & hard to reach surfaces use a soft paint brush to spread the compound.
- To remove sticker glue marks, apply some Forberz Leather Cream to the glue mark, let it soak for a few minutes & wipe clean.
- Work on portions of about 20 to 30 cm every time for an even application.
FREQUENT QUESTIONS

How long does the Forberz Leather Cream stay on the treated surface?
At first use - One treatment using Forberz Leather Cream will give you a visual appeal for about two weeks at the first use on regular conditions, depending on the treated material and the conditions and materials the surface is exposed to. On older surfaces like leather wraped antique books and other leather covered antique items, gently apply a generous ammount of compound and allow longer absorbtion times.
On repeated use - Longer visual appeal will be achieved on repeated use and after partial restoring of the treated surface as well as original material qualities like elasticity and softness.

Does the Forberz Leather Cream spoils or expires?
Due to the use of natural raw ingredients and the honey extracts the product is based on, the Forberz Leather Cream does not have an expiry date and will not evaporate or dry out if left open. With that in mind better keep the product away from direct sunlight, in a dark, dry and cool environment.

I left the container in the sun and the compound became liquid, is it spoiled?
No need to worry, if left for long at a hot environment or direct sunlight the compound might melt and become partialy liquid. Just place it in a dark, cool and dry environment and it will return to it's original state and may be used again.

What should I use as an applicator?
You can use a soft rag, sponge or a soft paint brush to apply Forberz Leather Cream on plastic and rubber. We recommend using a microfiber towel or an old 100% cotton shirt.
TECHNICAL & SAFETY DATA

100% Natural compound based on honey extracts & coconut oil.
Paint shop safe.
Non-Toxic, No Silicones, No Solvents.
Use as intended.
Not for human or animal consumption.
No fire hazard presented at regular working conditions.
Use & store in a shaded, cool & dry area.
On eye contact wash with plenty of water
If irritant to skin wash with water and soap.
DO NOT APPLY ON WET OR HOT SURFACES!
DO NOT APPLY ON MOVING PARTS & CONTACT SURFACES LIKE ENGINE BELTS & TIRES!

MSDS Files
SHIPPING

All items will be shipped within 3 business days, through Israel Post, and at their responsibility.
Forberz and its subsidiaries are not responsible for service transit time.
This information is provided by the carrier and excludes weekends and holidays.
Note that transit times may vary, particularly during peak periods.

International customers:
Please note that we are not the party collecting the shipping & handling nor the import charges (duties and taxes)

Return Policy:
We accept returns only if the item was not as described or found defective on arrival.
The buyer must contact us and return the item exactly as received in its original packaging within 14 days and will be responsible for all the Return Charges.
Return shipping and handling are the sole responsibility of the buyer.
A refund will be issued 5 business days after our team receives and checks the returned item.